About USL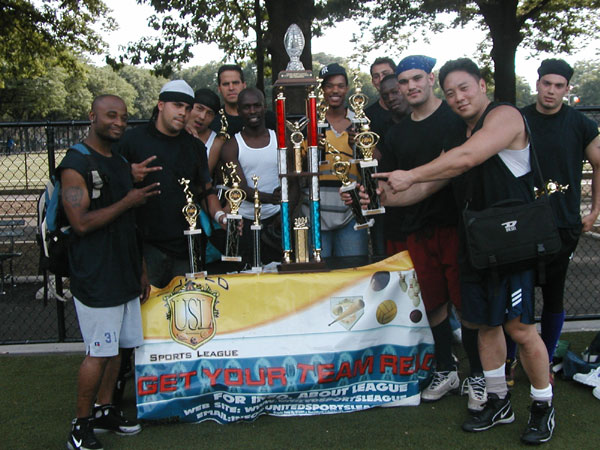 As a sports fan, nothing is more exhilarating than a great game. The rush and exhilarating jolt of sports are a thrilling and a great way to spend your time and socialize with friends.
But organizing a league for your favorite sports on your own can drain all the fun out of the game.
United Sports Leagues wants you to be able to enjoy the game without all the fuss. That's why we offer terrific intramural leagues for a variety of sports for all different age groups. Our leagues are well-organized and run with the professionalism and dedication of serious fans. Whether you're young, old, interested in softball, football or basketball, United Sports Leagues has a team for you. We have organized leagues for all 5 boroughs, so you never have to travel too far from home to get to the game.
Get out there and play with the help of United Sports League.
---
United Sports League – Celebrating 10 Years Serving NYC
GET ACTIVE! JOIN THE USL TODAY! In 2015 the United Sports League (USL) celebrates its 10th Anniversary providing well-organized, community-based sports programs for adults and youth. What started as a handful of teams in a recreational basketball league has blossomed into the fastest-growing, most-inclusive competitive adult sports league in New York City. Now with hundreds of teams and thousands of members, the USL offers the most popular team sports for adults 18 and over with a focus on fun, safety, and good sportsmanship.
Through it all, the USL continues to be defined by the harmony of its diversity, drawing together members of all races, religions and cultural backgrounds – united together in the spirit of competition and sportsmanship.
---
GET OUT THERE! STAY ACTIVE WITH THE USL!
What is the USL? The USL features first-class instructional sports training, recreational co-ed athletic leagues and competitive tournaments for all ages and skill levels. Ultimately, the USL unites recreational athletes from all walks of life, fostering their love of the game and encouraging an active, healthy lifestyle through the many sports we offer (basketball, flag football, softball, handball, etc.).
The USL is committed to offering high-quality sports programs, to help people develop skills, build confidence, and promote teamwork and sportsmanship. At the USL, there's always a team for you no matter your skill level. All that's required is the willingness to show up and compete. As a player in a USL League, you'll enjoy the many benefits of a well-organized sports organization and forms lasting friendships in your local NYC community.
To find out more about our terrific intramural leagues, please call us today!
">